Custom Learning Contracts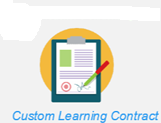 In a hackable high school (now any school in Ohio), teens can write their own courses, join an existing class nearly anywhere, or choose from nearly any coursework they and adults can imagine.
While this freedom is a big idea filled with many options for rigorous teen learning, a simple process defines the core.
Within that core, a single artifact provides the key to personalized learning.
The "M" in MOOC Stands For Massive Data
MOOculus
Open sourcing lets teens, teachers, and adults continuously improve the coursework.